Sucre is rather a tidy town, which according to the Constitution is a capital of Bolivia, but in no way can claim such a stately role. It is situated in the mountains, but not so high as La Paz, Oruro or Potosi, at the comfortable height — 2750 m. Today its population is 250 thousand people.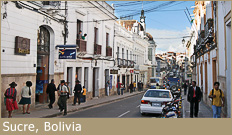 http://www.tiwy.com/pais/bolivia/sucre/eng.phtml


Potosi — is a small, slightly cheerless, but interesting and pleasant town at the height of 4 km above the sea level. The town is a capital of the Bolivian department of the same name.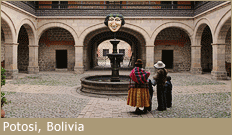 http://www.tiwy.com/pais/bolivia/potosi/eng.phtml